1. Sleeping Space
2. Bathing Sanctuary
3. Research Studio
4. Dining Space
5. Cooking Space
6. Sun Deck
7. Discussion Hearth
8. Fine Arts Gallery
9. Martial Arts Dojo


Growing from the mass of the earth, this folded land/form domus carves out a sanctuary from the chaotic world around it, while still maintaining ample solar views of the sky above. Its riveted zinc skin folds over a steel frame to protect its back, while its soft wooden underbelly stretches out into the warming sun of a sunken basalt courtyard garden. Locking together the fracturing shards are a vertical concrete mass [bathing/hearth] and glass spike [stairs/cooling stack].
The master suite, kitchen and dining areas receive early morning sunlight over the rear wildflower meadow. As the sun sets over the reflecting pool, video projection upon the periphery walls may be viewed from the dining room, dojo, library and decks. With the choice of many wooden decks or a grass eco-roof, one can bask in the sun from sunrise to sunset.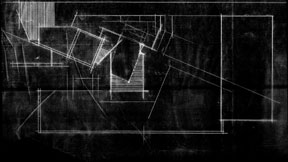 PROJECT STATISTICS:
Second Floor: 650 sq.ft. + 2 decks
Main Floor: 800 sq.ft. + 2 decks
Ground Floor: 1,000 sq.ft. + deck / reflecting pool

PROJECT: domo
LOCATION: portland, oregon
BUDGET: $208,250
PUBLICATION: seattle.case.study.homes, no.1, p.10.

PRESS:
Otto, Bridget A. The Oregonian: "Totally FAB: Designers Roll Out Customized Modular Homes", 04 November 2004, Homes + Gardens, p.1, 18-24.