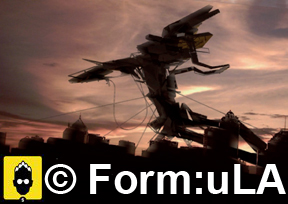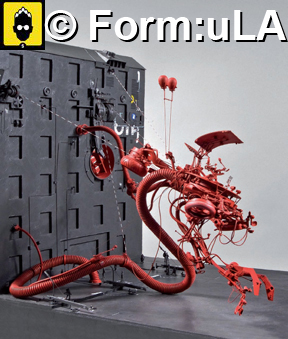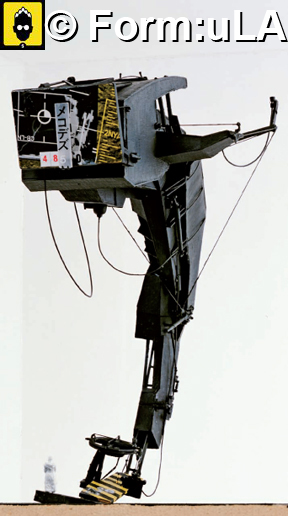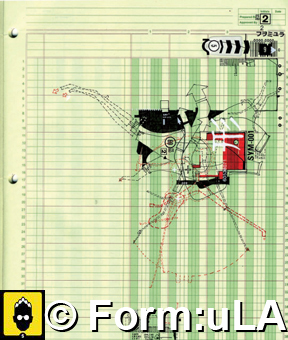 Images from Book:
"Mobile GatherSpace"
"Placemaker / Seedplanter"
"Batman"
and
"Greensheets/Topo:Typo"
Bryan W. Cantley of Form:uLA is a truth seeker.
Amidst all of the chaos, confusion, and autoerotic asphyxiation of contemporary architecture, he is delving beneath the surface to understand the psychology of perception, memory, and cultural identity. He peels away the flesh, to see the animatronics enabling our human condition.

Going beyond the static media of earlier visionaries like Piranesi, Viollet-le-Duc, Boullée, and Archigram; Cantley is determined to not only reVision architecture, but to bring deeper life to the very medium of communication itself. These past visionaries simply conveyed their ego-centric fantasies to a limited audience, but Cantley recognizes and orchestrates the very medium of communication itself. He understands that it is the scrim upon which drawing, model, and photograph are conveyed that needs to be investigated. He is not just showing his personal visions, he is instructing generations how to question and improve upon stale modes of traditional documentation.

Palimpsest and exploded-axonometric drawings of the past began evolving 2-D media to convey a sense of the third and fourth dimensions of space and time. Cantley's process of call and response emulsifies the archetypical paradoxes of design representation to synthesize a holistic spatial perception that transcends beyond cubism to an N-Space of multiphasic metadata.

Cantley's 2.5-D Dr'odels [drawing / models] understand that a spatial construct cannot be represented by a single perspective or set of data, but rather needs to be the aggregate of all possible information, here/there past/present/future, into a singular emotional state. Much like a memory that you have from childhood, which is not composed of a single Polaroid; his works weave scores of scents, tactilities, images, and sounds into a composite dream.

With an understanding of this shared memory imprint, he is able to work with clients and contractors to bring his work into reality. The work questions the static nature of architecture, preferring mobility, engagement, and adaptability. Must architecture remain anchored, or may it prowl through the Cities, tethering to what inspires, scarring banal tissue to foster healthier new growth, and continuing on to instigate the unknowing. Like a master choreographer, Cantley's kit-bash work is adaptive, allowing the circumstantial process of communication and reiteration to have a stochastic impact on the construct without being limited by intentional consequences.

The publication embodies a transition in the Research Institute for Experimental Architecture's methodology. The sixth in the concept series, it has synthesized layouts from the Mas Yendo "Ironic Diversion" monograph with influences from SpringerWein's sister the Pamphlet Architecture series by having a number of discrete essays flitting amidst threads of Cantley's beautiful portfolio. The format limits the supportive text, and allowed no interior views of the design work, which cause the experiential understanding to be limited to the few images of built projects. Future publications of Cantley's work will flesh this out.

With every click, his influence is spreading like a kudzu vine. This Derridian malware will allow his immense cyber-cult to transform the physical and cultural context around us at all human, virtual, and nano-scales. Soon his work, and those he has taught, will be able to create their own environments, growing upon their synthesized stratum, and infiltrate the sleeping Cities.